Sibella DUOSLIM COFFEE with Cappuccino aroma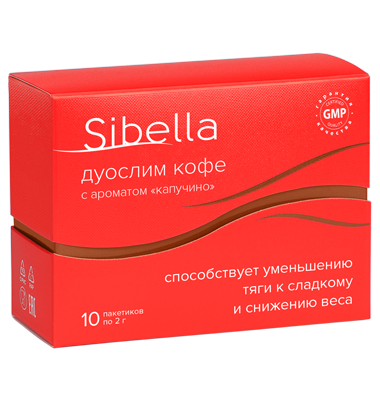 Private label
manufacture
possible
A natural drink and a complex of active substances increases fat oxidation, normalizes carbohydrate metabolism, reduces sweet cravings, tones.
Women of all age groups with an increased body mass index
Contains natural ingredients.
Safe, has a minimum of side effects and contraindications.
instant coffee – 1619 mg
garcinia cambogia fruit extract – 200 mg
guarana extract – 100 mg
chromium picolinate – 0.2 mg
Adults – 1 bag (2.0 g) 3 times a day (dissolve the contents of the bag in 50-150 ml of hot water, you can add a sugar substitute to taste) in the morning. Duration of administration – 2-4 weeks. If necessary, the administration can be repeated.
Before use, it is recommended to consult a doctor.
Information on product availability in pharmacies - 8-800-333-30-20