Sibella BEAUTY COMPLEX Day and Night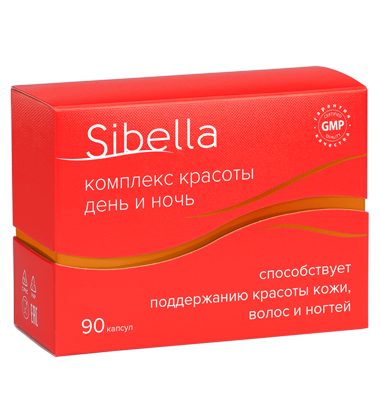 Private label
manufacture
possible
Active substances in the capsules of the Morning multicomplex contribute to the maintenance of lipid and carbohydrate metabolism, collagen synthesis and connective tissue function; increase skin tone; strengthen blood vessels and capillaries, and stimulate mental and physical activity. Components of Evening capsules support the collagen structure and prevent its destruction; inhibit skin aging, including photoaging (premature skin aging caused by the sun); prevent hair loss, brittle nails, dryness and peeling of the skin.
Women who look after their appearance, wish to prevent premature skin aging or reduce the effects of environmental stress.
Contains natural ingredients.
Safe, has a minimum of side effects and contraindications.
Wide range of action and high efficiency.
Day capsules:
collagen – 100 mg
zinc lactate – 40 mg
green tea extract – 35 mg
vitamin E – 20 mg
docosahexaenoic acid – 15 mg
borage extract – 15 mg
selenomethionine – 7.5 mg
ginger root extract – 5 mg
chromium picolinate – 0.5 mg
retinol (vitamin A) – 0.5 mg
Night capsules:
acid – 155 mg
glucosamine sulphate – 135 mg
lactose – 115 mg
grape seed extract – 50 mg
ferrous fumarate – 14 mg
horsetail extract – 10 mg
pantothenic acid (vitamin B5) – 6 mg
pyridoxine (vitamin B6) – 2 mg
riboflavin (vitamin B2) – 1.6 mg
cupric citrate – 1 mg
biotin – 0.5 mg
Day capsules of 0.3 g and Night capsules of 0.5 g
Adults – 2 Day capsules 1 time per day, in the morning, with food and 1 Night capsule 1 time per day, in the afternoon, with food. Duration of administration – 1 month. If necessary, the administration can be repeated.
Information on product availability in pharmacies - 8-800-333-30-20