Zinc + D3 + C + Quercetin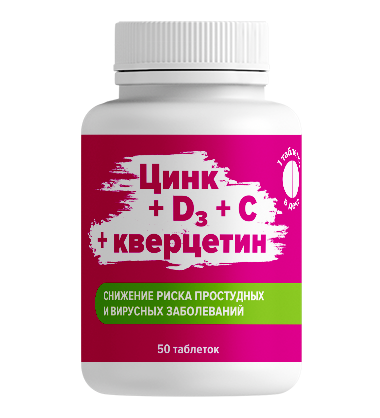 A complex to restore the body's defenses and reduce the risk of developing colds during the flu and cold season. The combination of active ingredients that enhance each other's action becomes a reliable support for your immunity.
Promotes:
Strengthening immunity;
Reducing the risk of developing colds;
Improving the condition of the bronchi and lungs;
Strengthening the walls of blood vessels.
As a dietary supplement, an additional source of quartzetin, zinc, vitamins D3 and C.
High performance ingredients
filler microcrystalline cellulose, vitamin C (ascorbic acid), zinc lactate, quercetin, vitamin D3 (cholecalciferol), anti-caking agents: magnesium salt of stearic acid, amorphous silicon dioxide (aerosil).
Adults and children over 14 years old: 1 tablet daily with meals. Duration of admission - 1 month. If necessary, the reception can be repeated. Recommended daily intake during seasonal flu and cold epidemics.

Before use, it is recommended to consult a doctor.