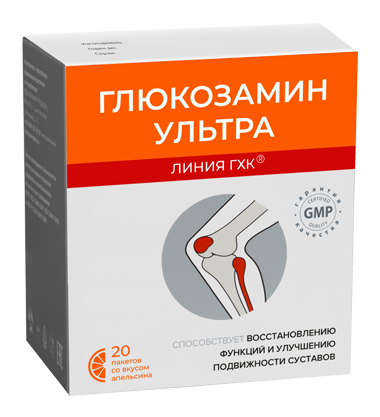 A complex based on glucosamine sulfate helps restore functions of joints and improve joint flexibility. The composition is enriched with MSM, vitamin C and manganese. Available in a convenient soluble form with orange flavour.

- To elderly people with aging changes in the joints;
- To overweight people;
- To athletes, including those engaged in weightlifting;
- To people conscious about joint health.
High glucosamine in one sachet
The optimal composition contains MSM, manganese and vitamin C
Convenient soluble form with orange flavor
Convenient reception - once a day
Affordable price
The combined effect of the components on the joints with the combined use of capsules GCC and gel cosmetic "GCC Universal"

Glucosamine sulfate, methylsulfonylmethane, vitamin C, manganese gluconate

Information on product availability in pharmacies - 8-800-333-30-20