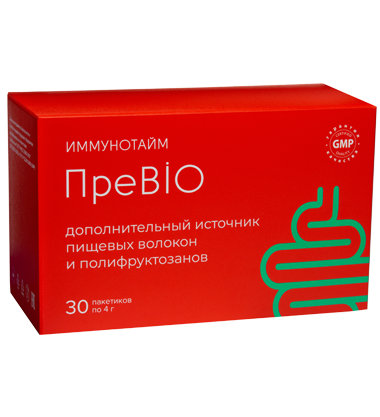 Restores the disturbed microbiota balance (beneficial gut microorganisms). Prebiotic that improves the functional state of gastrointestinal tract, used for prevention of constipation and dysbacteriosis. Immunotime. PrebIO is used in complex weight loss programs.

Adults:
for the prevention of dysbiosis and constipation of any etiology
after taking a course of antibiotics
for diseases of the gastrointestinal tract
to lower blood sugar
to lower cholesterol
in weight loss programs
to balance inadequate diet
as a prophylactic fortifying agent
Balanced composition of active substances
Safe, minimal side effects
Vast scope of application
Wheat bran, Jerusalem artichoke tubers powder, carrot powder, pectin, arabinogalactan, beet powder

Adults take 1 sachet (4.0 g) or 1 teaspoon (4.0 g) 1-4 times a day. The contents of the bag pour 100-150 ml of water, mix thoroughly, drink the resulting suspension. You can mix "Immunotime. PreBIO "in dry form (without diluting with water) with certain foods (porridge, juice, yogurt, kefir).
Duration of admission is 1-4 weeks. If necessary, the reception can be repeated.
Before use, it is recommended to consult a doctor.