BerryVitC. Echinacea and elderberry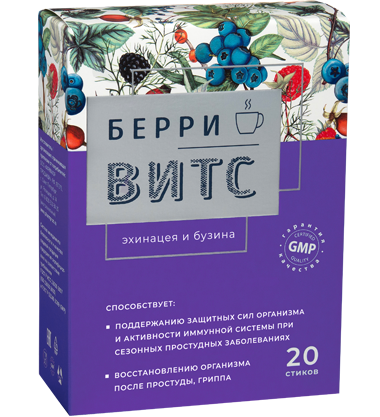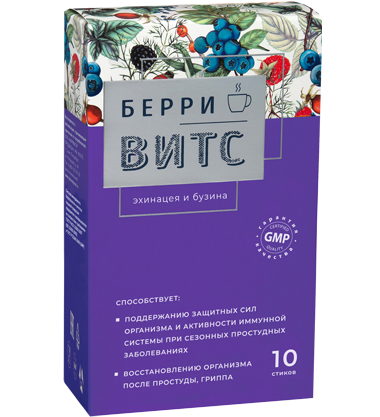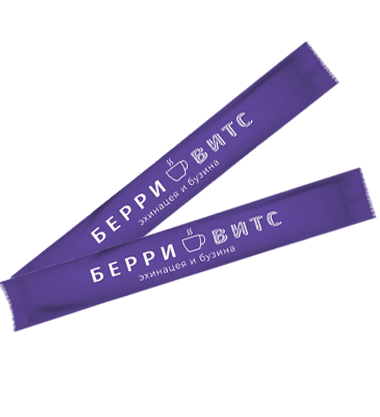 The fortified drink BerryVitC "Echinacea and Elderberry" is effective during the period of ARVI, influenza and viral infections. Natural extracts of berries in the composition give all the benefits to the body, protect it, and are also safe. A hot drink with a pleasant berry flavor helps to quickly remove toxins and restore immunity.
Promotes:
- Maintaining the body's defenses and the activity of the immune system in case of seasonal colds
- Replenishment of deficiency of vitamin C, zinc
- Replenishment of the required amount of fluid in the body at elevated temperatures
- Recovery of the body after painful conditions (colds, flu)
It can be used for prophylaxis and as a component of adjuvant therapy to reduce the risk of developing colds.
Natural, safe and effective ingredients.
Pleasant taste of the drink.
Echinacea, chokeberry, black elderberry extracts, Vitamin C, zinc lactate.
Inside, for adults 1 stick 1-2 times a day during meals. Dissolve the contents of one stick or one scoop (4.0 g) of the product in 100-150 ml of warm or hot water, mix thoroughly, and drink the resulting solution.
Information on product availability in pharmacies - 8-800-333-30-20