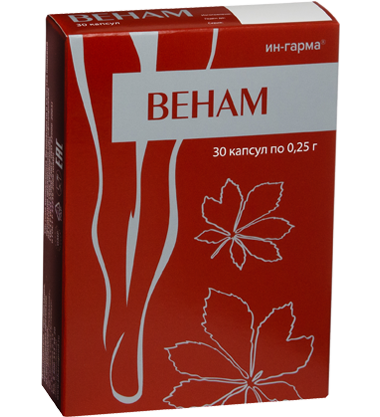 Private label
manufacture
possible
Plant extracts of horse chestnut seeds, willow bark and pine in the complex have venotonizing and capillary-strengthening effect, reduce swelling, prevent varix dilatation, have anti-inflammatory and analgesic effect.
To adults over 18 years old for varicose vein prevention with:
changes in hormone levels
menopause
prolonged static loads on the legs
sedentary lifestyle
job related to weight lifting
excess weight
daily wearing of high-heeled shoes
genetic predisposition
natural product
enriched with dihydroquercetin and vitamin C – potent antioxidants that strengthen blood vessels and capillaries
In combination with Venam cosmetic leg cream, helps to achieve the best result.
horse chestnut seed extract, pine bark extract, willow bark extract, ascorbic acid, dihydroquercetin.
Adults should take 1 capsule 3 times a day during meals.
Take for 1 month.
Information on product availability in pharmacies - 8-800-333-30-20