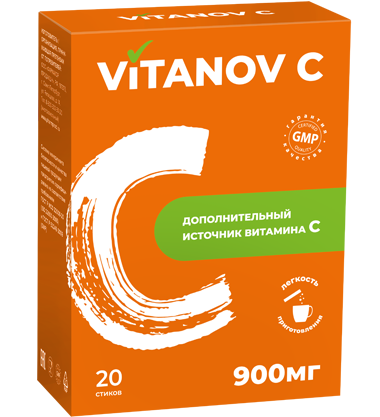 Vitamin C (ascorbic acid) is a biologically active compound that is
powerful antioxidant. Vitamin C strengthens the human immune system, speeds up the process
wound healing, participates in collagen protein synthesis, normalizes capillary permeability
moat, takes part in the metabolic processes of the body.
When:

bleeding gums;
hair loss;
frequent colds;
drowsiness and tiredness;
dryness and dullness of the skin.

Available in a convenient stick form;
High in vitamin C.

adults 1 sachet 2 times a day with meals. Dissolve the contents of one sachet or one scoop (5.0 g of product) in 150-200 ml
warm or hot water with a temperature of 35-40 ° C, mix thoroughly, the resulting
drink the solution. The solution should be prepared immediately before use. The formation of an insignificant amount of sediment in the solution is allowed. Duration
admission - 1 month. If necessary, the reception can be repeated.
It is recommended to consult a doctor before use.

Information on product availability in pharmacies - 8-800-333-30-20