Hepacomb. Essential phospholipids plus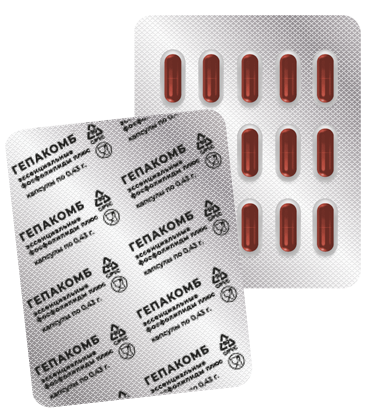 Private label
manufacture
possible
A natural complex based on effective natural ingredients that help maintain liver health and improve its functional state. The components of the complex help to restore the structure and function of liver cells, normalize metabolism, increase the resistance of liver cells to harmful effects (pharmacological agents, alcohol, toxins), and improve the functional state of the gastrointestinal tract.
Glycyrrhizic acid (extract of licorice root) - has a stimulating effect on the production of interferon, increases phagocytosis, increases the activity of natural killers (lymphocytes), etc. Due to its high surface-active effect, it improves the emulsification of phospholipids in the intestine.
to improve the functional state of the liver
to protect the liver from obesity
to improve the metabolic function of the liver
when taking medications (some antibiotics, long-term use of birth control pills, etc.)
on a strict diet
under stress
Natural ingredients in the composition
Contains phospholipids and glycyrrhizic acid
Phospholipids, Glycyrrhizic acid
adults and children over 12 years old, 2 capsules 3 times a day with meals. The duration of use can be up to 6 months, on average - 3 months. If necessary, the reception can be repeated.

It is recommended to consult a doctor before use.