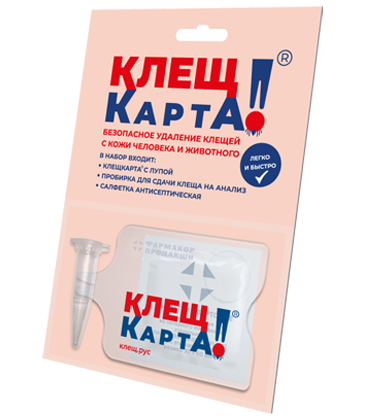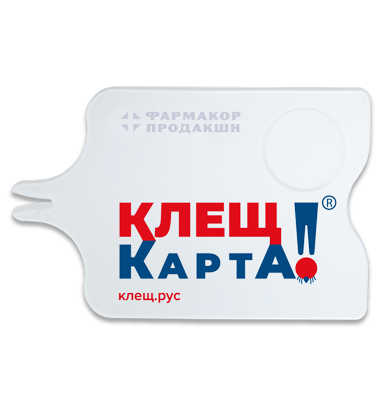 КЛЕЩКАРТА® - a health-related plastic product – the "tick-extraction device of the КЛЕЩКАРТА® trademark" – is intended for safe extraction of ticks from human and animal skin.
It is important to remove the tick as quickly and properly as possible!
Tick-borne encephalitis is transmitted through tick's saliva, and borrelia is transmitted during the blood regurgitation from the tick's esophagus. The earlier the tick is removed, the greater the likelihood of preventing infection and getting the lowest dose of pathogens.
КЛЕЩКАРТА® has passed the voluntary certification procedure reg. No. РОСС RU.AM05.H06406.
It tested at the Department of Epidemiology, Parasitology and Disinfection, North-Western Medical University named after I.I. Mechnikov.
1. Insert the groove of the КЛЕЩКАРТА® under the embedded tick
2. With a slight forward movement of the card, remove the tick
3. After removal, place the tick in a plastic flask.
The place of removal should be treated with an antiseptic cloth.
Wash your hands and tick-card with warm water and soap.
Deliver the removed tick within 2 days to the laboratory to make an analysis for tolerable tick-borne infections.


1. КЛЕЩКАРТА® with magnifier 2. Test tube for passing the tick for analysis 3. Antiseptic cloth
Information on product availability in pharmacies - 8-800-333-30-20