21 May 2020
Immunotime.Mango - No. 1 for immunity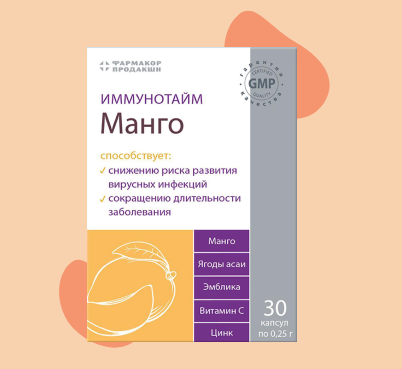 ---
According to the DCM Group JSC, Immunotime. Mango is still the only dietary supplement in Russia to strengthen immunity with mango extract in its composition (as of Q1 2020).
Due to the content of the entire spectrum of polyphenols of the mango extract, maximum immune bioactivity is achieved, which provides antiviral and antibacterial protection.
"Immunotime.Mango" is effective in acute colds and respiratory diseases and contributes to:
· Reduce the risk of developing viral infections
· Elimination of cold symptoms
· Reduce the duration of the disease
· Reduce the risk of complications
· For the prevention of viral and bacterial infections, such as herpes, acute respiratory infections, acute respiratory viral infections, and influenza
· In the complex treatment of acute respiratory diseases
· With weakened immunity
· With metabolic syndrome
The natural components of the Immunotime. Mango complex ensure the uninterrupted operation of the body's defenses throughout the entire season of the viral disease.