20 March 2019
IPLS-2019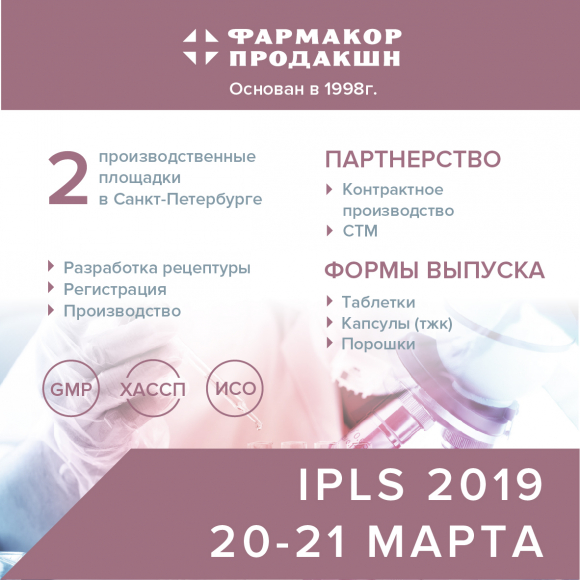 ---
Today, the IPLS exhibition has begun its work – the only specialized exhibition of contractual production and goods sold under own brand in Russia and the CIS.
At mount E14, PHARMACOR PRODUCTION shows all its options for the release forms of dietary supplements and drugs: capsules and tablets, powders in stick packs and sachets. Also, the visitors of the exhibition will be able to evaluate different types of packaging for the products manufactured, from concise affordable ones to original design concepts for upscale products.
This year, the company launched a new line of "specialized nutrition", namely, natural broths with balanced compositions enriched with plant extracts, microelements and vitamins that help normalize the functioning of cardiac system and liver and increase immunity. Visitors can taste the new product released under the brand name GERRBULYON here at the exhibition.
Within the framework of IPLS, it is possible to personally discuss the details and various formats of cooperation with the managers and management of PHARMACOR PRODUCTION, as well as visually evaluate the quality and range of products released.
The IPLS exhibition takes place on March 20 and 21, 2019.
PHARMACOR PRODUCTION mount - E14, Crocus Expo, Moscow