14 September 2022
Pharmacore Production on Ozon!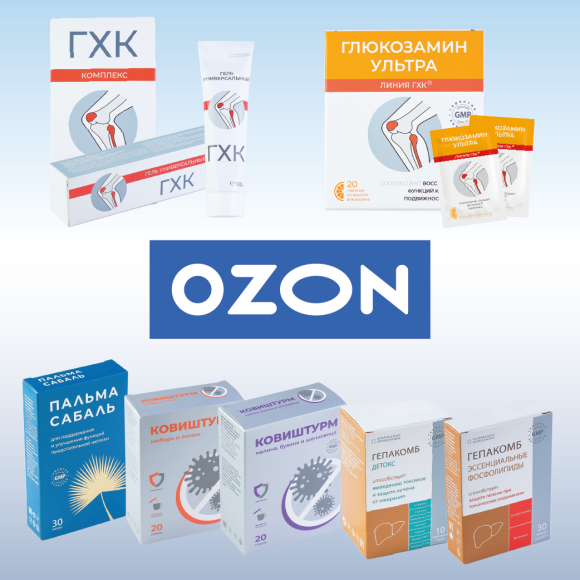 ---
A large assortment of our company's products is now presented on Ozon!
Complexes "Gepakomb" based on plant extracts. The line includes products aimed at cleansing the liver: Gepacomb.Detox in a convenient form of powder in a sachet, "Gepacomb.Essential phospholipids" for recovery, "Gepacomb.Ovelux" to maintain the efficiency of the liver.
The GCC line of preparations for maintaining joint health in various forms of release: capsules, powder, and gel. As part of the complexes:
Glucosamine - an anti-inflammatory agent, increases the permeability of the joint capsule, restores enzymatic processes in the cells of the articular cartilage;
Chondroitin, which inhibits the activity of enzymes that cause degradation of articular cartilage, stimulates the production of proteoglycans, enhances metabolic processes in cartilage;
Methylsulfonylmethane (MSM) is an organic sulfur-containing compound with a pronounced anti-inflammatory effect that strengthens joints and ligaments;
As well as natural plant extracts.
Vitaminized drinks "Kovishturm" to maintain immunity during the season of viral diseases. The complexes contain natural extracts of plants that have a pronounced anti-cold effect: ginger, elderberry, mulberry. The complexes are also enriched with vitamin C and zinc. Produced in the form of powder in sticks for the preparation of a warm drink.
Line "Venam" from edema and heaviness in the legs.
The drug "Palma Sabal" to improve the functioning of the prostate gland.
And much more now on OZON!
You can also always purchase our products at apteka.ru, 366.ru, eapteka.ru, detmir.ru and other online pharmacies and marketplaces. You can find a complete list of points of sale in each product card on our website.