15 August 2022
Private label manufacturer company of the year 2022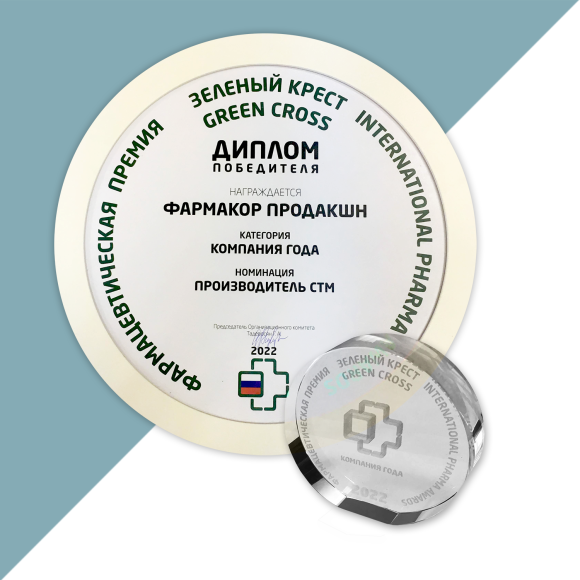 ---
PHARMACOR PRODUCTION received the Private Label Manufacturer 2022 award in the Company of the Year category of the Green Cross international pharmaceutical award.
The company has been cooperating in the field of contract manufacturing since 1998, including providing services for the creation and production of products under its own brand based on registered formulations or the development of a new recipe.
Members of the expert council of the Green Cross award - heads of pharmacy chains, pharmaceutical industries, distributors, leading Russian analytical companies and professional associations, recognized our company as a leader in the production of private labels. Experts highly appreciated manufacturability, customer service, production volumes and standards in accordance with the international GMP quality certificate.
Previously, in 2021, two of the company's products received Green Cross awards in the Brand of the Year category. The line of medicines "VairuFlu" became the winner of the award in the nomination "The fastest launch of the year 2021", the line of dietary supplements "BerryVits" - in the category "Means to strengthen the immune system 2021". In 2019, PHARMACOR PRODUCTION was recognized as the "Company of the Year" in the nomination "Domestic manufacturer of dietary supplements". In 2018, the award was given to the Vitamors Immuno complex in the nomination "Means for the prevention and treatment of seasonal diseases".