18 June 2021
Vitanov - a new line of mono products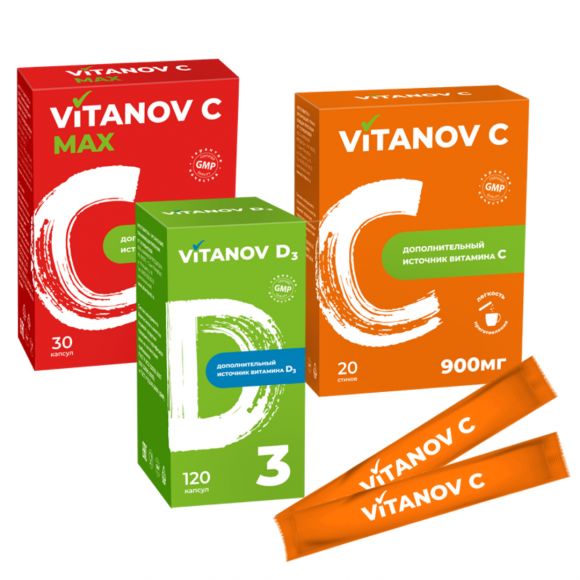 ---
In the second quarter of 2021, PHARMACOR PRODUCTION began production of a new line of mono products - Vitanov.
In June 2021, the first three products of the line - vitamins - entered the market:
Vitanov D3 capsules - cholecalciferol with high bioavailability, an additional source of vitamin D3. One capsule contains 600 IU - the recommended dose for the prevention of vitamin D deficiency.
Vitamin D3 helps to strengthen bones and teeth, maintain muscle function, protect immunity, as well as serotonin synthesis.
Vitanov C is available in a convenient stick format for preparing a hot drink. Contains 900 mg of ascorbic acid in two sticks.
The shape of the sticks ensures ease of preparation, it is enough to dilute the contents of the stick with warm water. A warm fortified drink is the best option for colds and flu, which not only compensates for the lack of vitamin C, but also has a symptomatic effect.
Vitanov C Max in capsules - 1 capsule contains the recommended daily therapeutic and prophylactic dose of vitamin C - 900 mg. 30 capsules of one package is enough for the recommended course - 1 month.
Vitamin C improves immunity, accelerates the treatment of colds, has a beneficial effect on the condition of the skin, nails and hair, slows down aging and is one of the antioxidants important for the body.
Vitanov D3 and Vitanov C are already available on Ozon.ru